The Neumann U87 Condenser with Innertube (Valve) Retrofit
Numann U-87 Cardiod Condenser
Valve Electronics
K-67 Capsule,
E88CC NOS Mullard Tube (Holland)

The New Yorker once described the voices on NPR as "mentholated" which is the perfect way to describe the NPR voice. It is also a good way to describe this mic combination, a tubed U87 with an NOS 1965 Mullard tube. A classic mic with a sound all its own - a bit like the Neumann U-67. It takes to really low volumes yet warm and belltone clear -I Usually use this with the Avalon 737-SP also with vintage NOS tubes or the DW Fearn VT-1 Mic Preamp, for an all tube vocal chain.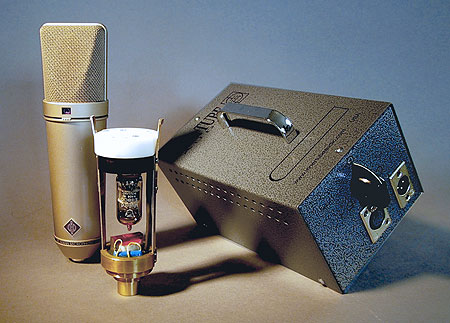 The U47 was the first multipattern condenser, the U47 ushered in the era of the modern studio mic, and even more than 50 years after its birth, it remains one of the world's most sought-after and desirable studio tools.
The U47 featured a high- performance (and now nearly impossible to find)
VF14 tube and the dual -diaphragm M7 capsule— essentially back-to-back
cardioid capsules that combine to create an omni pattern, or can be
used singly for a cardioid pickup.
Due to distribution issues
with Telefunken and post-
war production snags, the
U47 officially debuted in
1949. The Telefunken U47s—
which other than the logo,
were 100% identical to the
models bearing the Neumann name—were sold to European broadcasters and to the U.S. market, where they soon replaced RCA ribbons as the studio mic of choice.
The U 47 is a popular vocal mic. There were many U 47s and U 48s used for the Beatles recordings. On the Beatle's Rubber Soul album, virtually every track — from vocals, drums, guitars and the tambourine — were recorded with a U 47. George Martin wrote that it is his favorite microphone. Frank Sinatra refused to record without his "Telly," as the mic was nicknamed. Mercury Records promoted the U 47 as its Living Presence microphone, putting the mic's image on its record covers. Sound engineer Bill Porter used it exclusively on recordings by Elvis Presley, the Everly Brothers and most of Roy Orbison's hits.
In 1953, a U 47 sold for about $390.

Tube Condenser Microphone (NOS Tube)
Max. SPL 150 dB